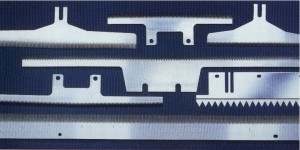 Federal Knife, Inc. offers all types and sizes of packaging and cut-off knives to fit all makes and models of machines. All of our packaging and cut-off blades are manufactured to meet or exceed OEM specifications, and are made from high quality tool steels.
Federal Knife blades will hold an edge longer and cut cleaner than most other blades. This means less waste and less time to change out blades, which saves you money.
Federal Knife, Inc. will resharpen your packaging and cut-off knives on-site. We will restore your blades to original tolerances and hand-hone them to remove burrs and wire edges. We lightly oil them to resist rust during shipment and/or storage.
We offer competitive pricing, quick turnaround and unbeatable customer service.
Whatever your cutting application, make Federal Knife, Inc. your first choice for replacement blades and blade sharpening.
Call us today, toll free, at 1-(800)-23-KNIFE, or 1-(800)-235-6433, to discuss your requirements with our friendly sales staff.