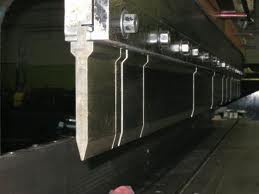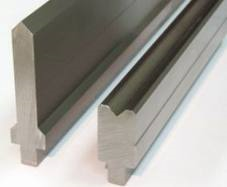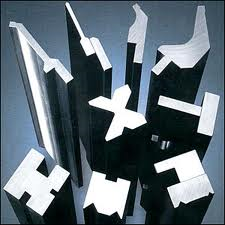 Federal Knife, Inc. can supply high-quality press brake dies to fit all machines, Standard and European, in lengths up to 24 feet. Whether you are bending 24 gauge, 1/2-inch or even larger, most parts can be formed using our "standard" punches and dies.
Call a Federal Knife specialist today, toll free, at 1-(800)-23-KNIFE, or 1-(800)-235-6433, for a pricing estimate and availability.
Submit a part drawing, and we can recommend press brake dies and tooling for your application. If the standard press brake tooling will not work for you, we can make modifications, design custom punches and dies to meet your needs, or build to your specifications.
The capacity of some dies may be limited by the tonnage capacity of your machine.
Reworking of your existing press brake tooling is also available.
Contact us for more details about the items listed below:
* 90o forming punches and dies** 30o acute angle punches and dies **Gooseneck punches ** Offset forming die sets ** Hemming die sets ** Flattening die sets ** Radius die sets *

* Channel die sets *

* Corrugating die sets ** Curling die sets ** 3-way and 4-way dies ** Die holders and ram adapters ** Custom punches and dies ** Standard and hook tongue ** Flame hardening available*
(not recommended for all tooling)